ISO 9001:2015
 Woodward & Co hold the recognised UKAS status of ISO 9001:2015 Quality Assurance Accreditation. The Certification allows us to make it easier to monitor and improve performance and better manage business risk.

ISO 14001:2015
 At Woodward & Co we understand the importance of our environment and the implications our designs and installations have upon the world in which we live. It is with this in mind that we take a positive approach to the environment through our ISO 14001:2015 accreditation.

OHSAS 18001: 2007
We are proud to have been awarded OHSAs 18001: 2007 accreditation in Occupational Health and Safety Management System as part of our risk management strategy to address changing legislation and protect our workforce and those who work around us.
 Being a member of CHAS has helped simplify the pre-qualification health & safety process for a number of our clients .
Constructionline This membership allows a number of our existing and prospective clients to have the assurance that we have undertaken a Pre-qualification Questionnaire when it comes to health & safety. This alliance provides clients with confirmation that we have achieved and met the requirements set out by Constructionline and in cases eliminates or reduces the level of work required by clients to complete PQQ's.

All of our office and site based staff hold relevant CSCS skills cards for the trades in which they are employed. This ensures that all personnel have passed the basic requirements for Health & Safety training before working on any of our sites.

Most contractors are all to aware of the hidden dangers of asbestos and training is essential to safe guard our workforce. Woodward & Co have taken the decision to go one step further by ensuring that all of our office and site staff have been trained by the IATP cloud trainer web portal which Marks & Spencer insist all contractors must undertake. Thus guaranteeing that a suitable level of asbestos training has been carried out.

As one of the countries leading manufacturers and suppliers of air conditioning units, we are pleased to be recognised as one of the approved Mitsubishi Business Solution Partners having met their stringent criteria and as such this BSP status enables us the ability to offer extended warranties on the units to 7 years.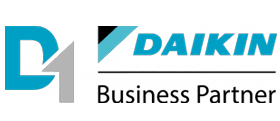 Woodward & Co are Daikin D1 Partners which enables us to provide an extended warranty on the units to 7 years. Being a partner ensures that Daikin have selected us for our high standard of installations and expertise.

As members of the Toshiba Additions scheme, we are approved Toshiba installers, which allows us to offer extended warranties on all Toshiba installations beyond the manufacturers standard warranty.

 A number of our principle engineering staff are members of the Charted Institution of Building Services Engineers. CIBSE are the world recognised leading body of professionals and is the standard setter and authority on building services engineering. Being a member demonstrates they have sufficient training, knowledge and understanding of building services and the environment in which they work.

 Along side CIBSE membership a number of our principle engineering staff are Incorporated members of the Engineering Council UK. The Engineering Council is the UK regulatory body for the engineering profession. This ensures that employers, government and wider society – both in the UK and overseas, can have confidence in the knowledge, experience and commitment of registrants. 

Woodward & Co are members of the Federation of Small Businesses.

Woodward & Co are members of the Fire Protection Association. This affiliation provides us with products and services designed to assist the fire safety professionals to help with maintaining high fire safety management standards.
Woodward & Co are approved LPCB 1048 –sprinkler contractors. This allows us to design and install commercial sprinkler systems. Our in house engineers have extensive knowledge of sprinkler systems backed in the knowledge that we are LPCB compliant.